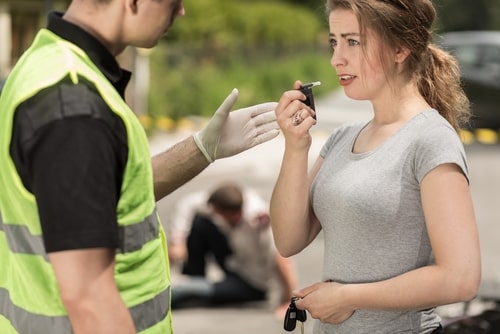 Driving while intoxicated by alcohol or other substances is unlawful in all fifty U.S. states. However, knowing when a driver is too intoxicated to drive safely is not always easy. Portable breath alcohol tests like breathalyzers are designed to measure the amount of alcohol on someone's breath and use that information to calculate the person's blood alcohol content (BAC). The results of these tests are not always accurate, however. As a result, many people wonder, "Will I go to jail for drunk driving if I fail a breathalyzer test?"
What Happens During a DWI Stop?
When a police officer suspects that a driver may be under the influence, he or she has a few options. Sometimes, the officer asks the driver to complete a field sobriety test. These tests assess a person's coordination and body responses to determine if they are under the influence. However, illnesses, injuries, and a host of other issues can interfere with these tests. Breath tests are often used in addition to or in place of a field sobriety test.
There Are Two Types of Breath Tests in Texas
Police officers carry portable breath tests which are often referred to as breathalyzers. These tests can be inaccurate. Consequently, the results of this preliminary breath test are usually not admissible as evidence during legal proceedings. A preliminary breath test is used to determine if there is enough evidence of intoxication to make an arrest. You are under no legal obligation to take a preliminary breath test.
...