DWI Lawyers in Collin County
Frisco Criminal Defense Attorneys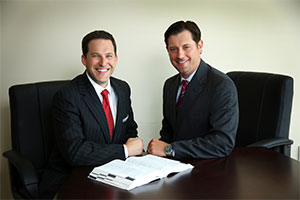 Hiring a lawyer to represent you or a loved in any type of criminal case is one of the most critical decisions you will ever make. The attorney you choose can absolutely make a difference in the ultimate outcome of your case. In North Texas, there are many law firms and lawyers to choose from, but at the Law Offices of Biederman & Burleson P.L.L.C., we believe the choice is easy.
Our experienced attorneys have been recognized—both regionally and nationally—for their success in defending against charges of driving while intoxicated (DWI) and other criminal matters. We realize, however, that our reputation alone does not win cases. Victories and favorable outcomes are the product of hard work, attention to detail, and an unwavering commitment to our clients. If you or a loved one is facing DWI charges, you need the best representation possible. You need the Law Offices of Biederman & Burleson P.L.L.C..
A Team-Based Approach in McKinney and Plano
Attorneys Troy Burleson and Hunter Biederman are accomplished criminal defense lawyers, each of whom possesses a unique set of legal skills that are important in building a quality defense to DWI or other criminal charges. When you choose our firm, you get BOTH attorneys. We handle every case as a team, which means that you will benefit from the strengths of our entire team. Both Mr. Biederman and Mr. Burleson will review the details of your case, offer input regarding defense strategies, and make themselves available to answer any questions that you might have. We believe that this approach allows us to build the best possible defense for your specific situation.
Focused DWI Training
The attorneys at our firm have undergone specialized DWI-related training that affords them valuable insight and knowledge that other lawyers simply do not have. Mr. Burleson and Mr. Biederman are each certified by the National Highway Transportation Safety Administration (NHTSA) in the administration of the Standardized Field Sobriety Tests. In fact, Hunter Biederman is certified to teach law enforcement officers how to administer the tests during DWI stops. Mr. Biederman is also nationally recognized as an authority on DWI blood and breath testing procedures.
Our training gives us a strategic advantage over other lawyers, police officers, and prosecutors. This advantage can be beneficial as we investigate your arrest, select the jury, and advocate on your behalf at trial.
Denton County Trial Attorneys Who Get Results
Many attorneys claim that they are proven "trial lawyers." Very few, however, can point to a history of success like that of the Law Offices of Biederman & Burleson P.L.L.C.. Since 2006, our lawyers have secured more than 500 trial victories in DWI cases. We have also secured many favorable outcomes for clients charged with drug crimes, assault, theft, and other criminal offenses. Our lawyers try more cases in a typical year than most attorneys will try in their entire careers. We believe that there is no substitute for experience, and our trial experience is significant.
We Are Ready to Help You
If you are facing charges related to DWI or any other criminal charges, our team is here to help. Contact our office for a free consultation and case review today. Call 469-333-3333 at any time of the day or night. Our phones are answered 24 hours a day, and you will be able to speak with an attorney within minutes. At the Law Offices of Biederman & Burleson P.L.L.C., we serve clients in Frisco, McKinney, Plano, Fairview, Plano, Allen, Denton, Lewisville, Little Elm, The Colony, Dallas County, Denton County, Collin County, and the surrounding areas.