Collin County Murder Defense Attorneys
Lawyers in Frisco for Clients Accused of Criminal Homicide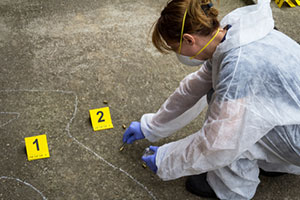 Under Texas law, an individual commits criminal homicide by intentionally, knowingly, recklessly, or negligently causing the death of another individual. A homicide is considered by most to be the most egregious crime that a person could ever commit. If you are facing charges related to murder, manslaughter, or any other type of criminal homicide, you need to speak with a qualified criminal defense attorney immediately.
The skilled attorneys at the Law Offices of Biederman & Burleson P.L.L.C. realize that a homicide charge of any type is gravely serious. We also understand that the state of Texas is one of just a few states in which capital punishment is still used. This means that if you are convicted of murder, you could potentially face the death penalty. With more than 27 years of combined legal experience, our team has the legal knowledge, resources, and tools to assist you in building an aggressive, responsible defense to murder or criminal homicide charges.
Understanding Murder Charges in Texas
Chapter 19 of the Texas Penal Code is the section of Texas law that deals with all types of criminal homicide. Under the law, criminal homicide can be charged under one of four offenses: murder, capital murder, manslaughter, and criminally negligent homicide. A person commits murder by:
Intentionally or knowingly causing the death of another person;
Committing a dangerous act with the intention of causing serious bodily injury, and another person dies as a result; and
Causing the death of another while committing another felony or while fleeing after committing a felony.
A murder charge is usually a first-degree felony, punishable by up to 99 years in state prison. If the murder is believed to have occurred as a result of "sudden passion arising from an adequate cause," the charge may be reduced to a second-degree felony with a possible prison sentence of up to 20 years. "Adequate cause" is a cause or circumstance that would lead an ordinary person to experience a degree of anger, rage, resentment, or terror that is strong enough to render him or her "incapable of cool reflection."
According to the Penal Code, a murder charge can be elevated to capital murder if:
The victim is a police officer, fireman, or judge;
The murder was committed intentionally during the commission of a felony;
The murder was committed while trying to escape from a correctional facility;
The victim was a child under the age of 11; or
Multiple related murders were committed.
Hiring someone to commit murder or committing murder for money is also considered capital murder. Capital murder is prosecuted as a capital felony. Prosecutors may elect to seek the death penalty for a conviction. Life in prison without the possibility of parole is also possible.
McKinney Defense Lawyers for the Most Serious Criminal Charges
Attorneys Troy Burleson and Hunter Biederman are well aware of what is at stake when you are facing charges for murder or capital murder in the state of Texas. We know that prosecutors will do everything possible to secure a conviction. Likewise, we will do everything in our power to help you avoid a conviction.
Building a strong defense to murder charges begins with a full investigation of the circumstances of the death and your alleged role in it. We will review police reports, witness statements, and all available physical evidence to find holes or weaknesses in the state's case against you. From there, we will build a case designed to obtain the best possible outcome. We believe that every defendant is innocent until proven guilty beyond a reasonable doubt, especially those charged with an offense as serious as murder. Our team is committed to helping you protect your rights and your future, and we will be at your side every step of the way.
Call 469-333-3333 Today
For more information about our firm and our team-based approach to homicide charges, contact our office. Call 469-333-3333 for a free consultation and case review at the Law Offices of Biederman & Burleson P.L.L.C.. Our firm handles murder cases in Frisco, McKinney, Plano, Lewisville, Denton, Collin County, Dallas County, Denton County, and the surrounding areas.