Collin County Theft Defense Attorneys
Criminal Lawyers Defend Those Charged With Property Crimes in McKinney and Denton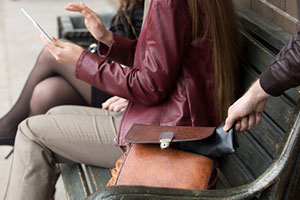 There are many different ways in which you could be charged with a crime related to theft in the state of Texas, and all of them are serious. If you have been arrested for a theft crime, you need an attorney who is willing to stand up and fight for you.
At the Law Offices of Biederman & Burleson P.L.L.C., in Frisco, Texas, our experienced lawyers recognize the importance of protecting your rights and minimizing the long-term impact on your future. No matter what type of theft charges you may be facing, you deserve the opportunity to tell your side of the story. With that in mind, we are prepared to offer the trusted guidance and top-quality representation you need.
Understanding Theft Charges in Dallas County and Denton County
Chapter 31 of the Texas Penal Code is the collection of statutes that govern most theft crimes in the state. According to Section 31.03 of the Penal Code, a person commits theft by appropriating property unlawfully. Appropriation of property is considered to be unlawful if:
The property is taken without the effective consent of the owner; or
The person took or accepted property that he or she knew or believed was stolen by someone else.
The law also provides that a theft crime is committed if a person intentionally fails or refuses to pay for services received from or rendered by another person.
Theft crimes in Texas can range greatly in their severity based on the nature and value of the property or services in question, as well as other factors. A theft of property valued at less than $100 is a Class C misdemeanor, punishable by a fine of up to $500. Stealing or appropriating property valued at over $300,000 is a first-degree felony, punishable by up to life in prison.
Defense Counsel for Property Crimes
In addition to helping clients charged with theft, the team at the Law Offices of Biederman & Burleson P.L.L.C. also handles a wide range of other crimes related to the appropriation or taking of another's property. We are equipped to help you defend against charges of:
Regardless of the charges you are facing, you can depend on our firm to work hard on your behalf. We begin each case with a comprehensive investigation of the situation, including the details of your arrest. Our lawyers will examine the evidence against you, looking for potential holes or weaknesses in the state's case. From there, we will develop a strategy designed to give you the best chance at a favorable outcome. When appropriate, we will negotiate with prosecutors to find alternatives to a conviction, but we are fully prepared to fight the charges at trial, if necessary.
Call 469-333-3333 Today
For more information about our firm and our team-based approach to defending against theft charges, contact our office. Call 469-333-3333 to schedule a free consultation and case evaluation at the Law Offices of Biederman & Burleson P.L.L.C. today. We represent clients in Frisco, McKinney, Plano, Fairview, Allen, Prosper, Denton, Lewisville, The Colony, Little Elm, Denton County, Dallas County, Collin County, and the neighboring communities.