Collin County Intoxication Manslaughter Defense Lawyers
Attorneys for Clients Facing Charges Related to DWI Involving a Death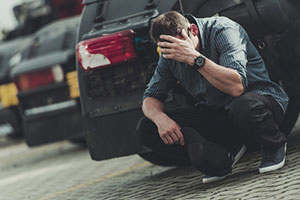 It is always frightening to get into a car accident. The situation becomes many times worse when an accident leads to the death of another person. If, however, you were driving while intoxicated (DWI) and another person died as a result, your life will likely never be the same. In such a case, you could be charged with intoxication manslaughter—one of the most difficult charges to defend against in all of criminal law.
At the Law Offices of Biederman & Burleson P.L.L.C., we know when someone dies in a crash or other incident caused by a driver who was suspected of being intoxicated, prosecutors are under a great deal of pressure to secure a conviction. Media coverage is often extensive, and public opinion tends to play a role in the proceedings. For these reasons and many others, it is critical to have an experienced and skilled defense attorney on your side. Our attorneys have the background, knowledge, and ability to provide the aggressive defense you deserve when facing serious charges.
Understanding Intoxication Manslaughter
According to Section 49.08 of the Texas Penal Code, charges of intoxication can be brought against a person if:
The person operates a motor vehicle, watercraft, aircraft, or an amusement ride, or assembles an amusement ride while intoxicated; and
The person causes the death of another by accident or mistake as a result of being intoxicated.
Other manslaughter offenses in the Penal Code, including vehicular manslaughter, require proof of a reckless act. With intoxication manslaughter, the law effectively presumes that operating a car, truck, boat, airplane, or amusement ride while intoxicated is the reckless act. Thus, prosecutors only need to prove that you were intoxicated and that your intoxication caused the death.
Intoxication manslaughter is prosecuted in Texas as a second-degree felony. A conviction carries penalties of up to 20 years in prison and fines of up to $10,000. It is important to keep in mind that if more than one person is killed, additional counts of intoxication manslaughter may be added, and the penalties may be stacked. The same is true if one person is killed and another is injured. In such a case, a charge of intoxication assault can be added, and the penalties combined.
Defending Against Intoxication Manslaughter Charges in Dallas County
The skilled attorneys at the Law Offices of Biederman & Burleson P.L.L.C. recognize the seriousness of intoxication manslaughter charges, and we understand what is at stake for you. We also realize that there are several ways to build a defense against such charges. One way is to challenge the results of the blood or breath test used to "show" that you were intoxicated. Our firm has secured more than 100 not-guilty verdicts in DWI trials where our client failed a BAC test.
It could also be possible to create reasonable doubt that your intoxication caused the deadly accident. Car accidents happen for countless different reasons, but in order to secure a conviction on intoxication manslaughter charges, the state must prove that your intoxication was the reason for the accident. For example, if you were legally stopped at a red light, and another car struck your vehicle from behind, killing its driver, it would be difficult to argue that your intoxication caused the person's death.
At the Law Offices of Biederman & Burleson P.L.L.C., our lawyers have won more than 500 DWI cases at trial, some of which included intoxication manslaughter charges. With our team approach and knowledge of the law, we are equipped to help you protect your rights and your future.
Let Us Help
An accidental death is a tragedy, but so is a wrongful conviction. If you are facing intoxication manslaughter charges, contact our office immediately to get the guidance you need. Call 469-333-3333 for a free consultation and case review today. Our firm serves clients in Collin County, Denton County, Dallas County, and the surrounding areas.