Burglary Defense Attorneys in Collin County
Frisco, Texas Criminal Lawyers for Clients Accused of Breaking and Entering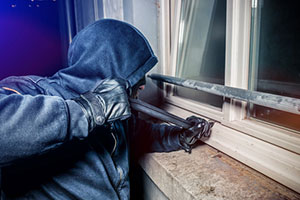 If you are like most people, you might be unsure about the legal definition of the term "burglary" and how it is different from offenses such as theft or robbery. It is important to know, however, each Texas law provides distinct meanings and criteria for each of these offenses—along with different penalties for a conviction.
At the Law Offices of Biederman & Burleson P.L.L.C., in Frisco, Texas, our experienced attorneys provide aggressive, responsible defense representation to individuals facing charges of burglary. We have successfully defended hundreds of clients, and we are ready to put our knowledge and experience to work for you.
Texas Law Regarding Burglary
The offense of burglary is sometimes referred to as "breaking and entering," because charges of burglary can be filed even if you did not steal anything. According to Section 30.02 of the Texas Penal Code, a person commits burglary by entering a home or a building or remaining in a home or building with the intent of committing a felony, theft, or assault. There is no requirement for the additional crime to have been committed. Your intent is enough to support a burglary charge.
If the building in question is a store or business, rather than a residence, burglary is typically prosecuted as a state jail felony. A conviction could result in up to two years in a state jail facility and fines of up to $10,000. Burglary of a residential building is a second-degree felony, with potential penalties of up to 20 years in prison. You could be charged with a first-degree felony for burglary if you are suspected of entering a residence with the intent to commit a felony other than theft, such as aggravated assault or murder. A conviction on first-degree felony burglary charges could land you in prison for the rest of your life.
Defending Against Burglary Charges
Attorneys Troy Burleson and Hunter Biederman are accomplished criminal defense attorneys with more than 27 years of legal experience. Together they have secured hundreds of trial victories including many involving charges of burglary. Our firm has also helped to facilitate many other favorable outcomes by negotiating with prosecutors to reduce or dismiss charges and potential penalties.
When you contact our firm, helping you avoid a conviction becomes our top priority. We start each case with a comprehensive investigation so that we can gain a full understanding of the situation. Our lawyers will review the details of your arrest and the circumstances that led to it. We will also examine police reports, witness statements, and any other evidence the state intends to use against you. In order to convict you on burglary charges, prosecutors will need to prove each element of the alleged offense beyond a reasonable doubt. Our job is to create reasonable doubt by exploiting weaknesses in the state's case and to protect your best interests every step of the way.
Call 469-333-3333 Today
For more information about our firm and our team-based approach to defending against burglary charges, contact our office. Call 469-333-3333 for a free, no-obligation consultation and case review at the Law Offices of Biederman & Burleson P.L.L.C. today. Our attorneys represent clients in Frisco, McKinney, Plano, Fairview, Allen, Prosper, Little Elm, The Colony, Lewisville, Denton, Collin County, Dallas County, Denton County, and the surrounding areas.