Collin County Fraud Charges Defense Attorneys
Federal Money Laundering Criminal Lawyers in Collin County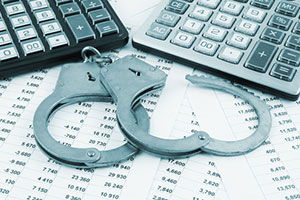 The category of criminal offenses commonly known as "white-collar crimes" includes illegal activity such as fraud, money laundering, forgery, embezzlement, and much more. Also known as "financial crimes," these offenses are nearly always non-violent in nature, but they are taken very seriously by the courts. In fact, a large percentage of fraud and money laundering cases are prosecuted at the federal level, which often results in more serious charges and possible penalties than at the state level. A conviction on federal fraud or money laundering charges will almost certainly result in prison time, even if it is your first offense.
At the Law Offices of Biederman & Burleson P.L.L.C. in Frisco, TX, our attorneys have more than 27 years of experience in the practice of criminal law. We have helped many clients successfully defend against federal charges related to fraud, so we realize what is at stake for you. With our background, knowledge, and skills, we are equipped to help executives, managers, officers, shareholders, and any other individuals charged with money laundering or fraud.
Federal Fraud Defense Attorneys in Prosper and Allen
Federal law recognizes many different types of fraud, ranging from fairly simple offenses such as credit card fraud to more complicated crimes such as securities or real estate fraud. At our firm, we understand that every type of fraud includes specific elements and unique contexts, which all contribute to the severity of the charges and associated penalties.
Fraud crimes, however, generally do include many of the same elements, regardless of the specifics. If you are charged with any type of federal fraud crime, prosecutors will attempt to show that you lied or engaged in some type of deception to acquire something of value from another person. If the alleged deception involved more than one person working together, you could also face charges for criminal conspiracy.
Under federal law, fraud-related charges are possible for:
Credit card fraud;
Tax fraud;
Bankruptcy fraud;
Forgery;
Insurance fraud;
Medicare or Medicaid fraud;
Check fraud;
Fraudulent or deceptive business practices;
Securities fraud; and
Immigration fraud.
Dallas County Money Laundering Defense Attorneys
Money laundering refers to the illegal practice of attempting to "clean" money that was obtained through illegal means to prevent the money being traced to the perpetrators of the crime. Money structuring is a related offense that involves breaking down large transactions into smaller transfers to get around federally mandated reporting requirements. The two offenses are similar because they have the same goals: to prevent authorities from tracking the transactions and the original income source.
The need to "launder" money often arises for those involved in large-scale criminal enterprises, such as drug trafficking, weapons trafficking, and illegal gambling operations. If you are facing charges for money laundering or money structuring, you could be facing fines of up to $500,000 or twice the amount of money that was laundered, as well as imprisonment in a federal penitentiary for up to 20 years.
Building Your Defense in Plano Federal Court
At the Law Offices of Biederman & Burleson P.L.L.C., we know that the best defense strategy for your case will depend on the circumstances of your specific situation. Our attorneys will carefully review the details of your arrest, as well as the investigation that led to it. We will also examine the prosecution's evidence and how it was obtained to ensure that your rights were not violated in any way. In short, we will do everything possible to help you avoid a conviction and to clear your good name.
Contact Us Today to Get the Help You Need
If you or a member of your family has been arrested and charged with fraud or money laundering, contact our office. Call 469-333-3333 to schedule a free consultation and case evaluation today. Our lawyers represent clients in Frisco, McKinney, Fairview, Prosper, Plano, Allen, The Colony, Little Elm, Denton, Lewisville, Collin County, Dallas County, Denton County, and the surrounding areas.