Frisco DWI Defense Attorneys for Commercial Driver's License Holders
Lawyers in Collin County for Protecting Your CDL and Your Livelihood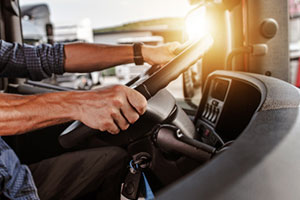 Across the state of Texas, thousands of individuals depend on their commercial driver's license (CDL) to provide for themselves and their families. A CDL is required for long-haul truckers, delivery drivers, bus drivers, heavy equipment operators, and others who drive for a living. Under Texas statutes and federal regulations, commercial drivers are held to a high standard of roadway safety, especially when it comes to driving while impaired.
At the Frisco-based Law Offices of Biederman & Burleson P.L.L.C., we realize that a charge of driving while intoxicated (DWI) can be absolutely devastating if you have a CDL. If you are facing charges for operating a commercial or private vehicle while intoxicated, our experienced attorneys can provide the top-quality representation you need and deserve.
Skilled DWI Lawyers in McKinney With Vast Legal Knowledge
For drivers of legal drinking age—that is, age 21 and older—Texas law provides a legal limit for blood-alcohol concentration (BAC) of 0.08. If your BAC is 0.08 or higher, you are considered intoxicated, and it is illegal for you to operate any vehicle on a public road in Texas. If you have a commercial driver's license, you are bound by the same limit, but only in a non-commercial vehicle. If you are driving a commercial motor vehicle such as a bus, dump truck, or tractor-trailer, your BAC must be less than 0.04. The lower limit is meant to encourage safer driving. However, the consequences for exceeding either standard are especially serious for CDL holders.
Driver's License and CDL Suspensions in Texas
If you are arrested for DWI as a CDL holder, the arresting officer will usually ask you to submit to either a breath or blood test to determine your BAC. The legal limit will depend on what type of vehicle you were operating at the time of your arrest. If you fail or refuse the test, the officer will take your driver's license and your CDL and give you a temporary license. The officer will also file paperwork with the Texas Department of Public Safety to begin the process of suspending your driver's license and disqualifying your CDL, even if you were driving a private, non-commercial vehicle. Failing or refusing a BAC test will result in the disqualification of your CDL for one year. The disqualification period jumps to three years if you were driving a commercial vehicle carrying hazardous materials.
It is important to act quickly after receiving notice of an impending suspension of your driver's license and CDL. In most cases, you only have 15 days in which to request an Administrative License Revocation hearing so that you can challenge the suspension. If your ALR hearing is successful, you will be allowed to continue using your CDL until the DWI charges are resolved. The attorneys at the Law Offices of Biederman & Burleson P.L.L.C. can help you prepare for your ALR hearing to give you the greatest chance of success.
Penalties for a DWI Conviction for CDL Holders
The criminal penalties for a conviction on DWI charges are the same for CDL holders as they are for non-commercial drivers. A first offense is usually a Class B misdemeanor, punishable by up to 180 days in jail, fines of up $2,000, and two years of probation. A second offense is generally prosecuted as a Class A misdemeanor, with penalties that could include up to one year in jail, up to $4,000 in fines, and two years of probation.
The major difference, however, is the disqualification of the offender's commercial driver's license. If you are convicted of DWI for the first time, you will lose your CDL for at least one year—three years if you were transporting hazardous materials at the time of your arrest. If you are convicted for a second DWI, you will lose your CDL for life.
Although an Occupational Drivers License may be able to be obtained, it cannot be used for driving a commercial vehicle.
Attorneys Who Get Results
Attorneys Hunter Biederman and Troy Burleson have more than 27 years of combined legal experience. With our team-based approach, we have secured trial victories in more than 500 DWI cases, including more than 100 in which our clients failed a breath or blood test. We have helped countless other clients, many of whom were CDL holders, obtain favorable resolutions through pre-trial dismissals and plea bargains. If you are a commercial driver's license holder who is facing DWI charges, we are ready to put our knowledge and skills to work on your behalf.
Call 469-333-3333 Today
For more information about us and how we can assist you in protecting your CDL privileges, contact our office. Call 469-333-3333 to schedule a free consultation and review of your case. Our firm represents clients in Denton County, Dallas County, Collin County, and surrounding areas.