Collin County DWI Breath Test Lawyers
Attorneys for Failed Breathalyzer and Intoxilyzer Tests in McKinney, Frisco and Denton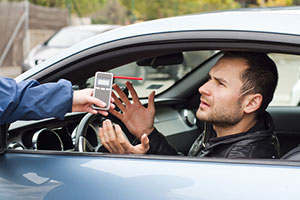 If you were arrested on suspicion of driving while intoxicated (DWI), you were probably taken to the police station and given a breath test to determine your blood-alcohol concentration (BAC). According to Section 49.01 of the Texas Penal Code, a driver with a BAC of 0.08 or higher is considered to be intoxicated even if he or she did not show any other signs of impairment. If your breath test produced a result above 0.08, you might be thinking that you are out of luck and that you are automatically going to be found guilty. Fortunately, however, neither of those assumptions is true.
Under Texas law, you have the right to challenge the results of a breath test following a DWI arrest, and our experienced team is equipped to help you do so. At the Law Offices of Biederman & Burleson P.L.L.C. in Frisco, our attorneys have helped hundreds of clients successfully defend against DWI charges, including more than 100 who failed breath or blood tests. With more than 27 years of combined experience and a long history of success, we have the knowledge and skills to help you protect your rights and your future.
Preliminary and Post-Arrest Breath Tests in Texas
When a police officer suspects that a driver is operating a vehicle while intoxicated, the officer will usually ask the driver to submit to field sobriety tests. In many cases, the officer will also ask the driver to take a preliminary breath test (PBT). During a traffic stop, a driver is under no obligation whatsoever to submit to a PBT, as it is primarily an information-gathering tool for the officer and is not usually admissible in court as evidence of intoxication. The officer will use the results of the field sobriety tests, the PBT, and his or her observations to determine if there is sufficient reason to make an arrest for DWI.
Once an arrest has been made, however, things change quickly. The "implied consent" law in Texas provides that a person who has been arrested on suspicion of DWI must submit to a blood or breath BAC test, or the person's driver's license will be suspended for at least 180 days. The officer could then request a warrant, allowing him or her to forcibly conduct a blood test anyway. Prosecutors will almost always try to use the results of a post-arrest breath or blood test in building their case.
Hard Work Gets Results
"Richard" was pulled over by the police following calls about a reckless driver. After stopping him, the police smelled alcohol on his breath and administered the Standardized Field Sobriety Tests. Richard was arrested, and he submitted to a breath test. He blew a 0.134, well over the legal limit of 0.08.
At trial, attorneys from the Law Offices of Biederman & Burleson P.L.L.C. were able to show that the field sobriety tests were improperly administered and therefore did not produce accurate results. In addition, we were able to show a number of problems with the breath testing machine that was used—the "Intoxilyzer 5000." After a lengthy deliberation, the jury found Richard NOT GUILTY because the state was unable to meet its burden of proving his guilt "beyond a reasonable doubt."
Challenging Breath Tests in Denton County and Dallas County
Attorneys Troy Burleson and Hunter Biederman know that there are a variety of ways to challenge the results of a failed breath test, depending on the circumstances. We are familiar with the breath testing machines used in Texas. Law enforcement in Texas is primarily using either the Intoxilyzer 5000, Intoxilyzer 8000, or Intoxilyzer 9000. We have the resources and legal knowledge to address factors such as:
The amount of time between your last drink, when you were driving, and when the test was conducted
The training and qualifications of the person who conducted the test
The calibration and maintenance of the testing equipment
Whether the person who conducted the test followed proper procedures
The methodology used in interpreting the test results
No matter how hopeless your situation might seem, we will work hard to find any and all details that could be used in your defense. You can depend on our firm to provide the top-quality guidance and representation you deserve.
Call 469-333-3333 Today
For more information about challenging DWI breath tests in Texas, contact our office. Call 469-333-3333 to schedule a free consultation and case review with one of our attorneys today. At the Law Offices of Biederman & Burleson P.L.L.C., we serve clients in Frisco, McKinney, Plano, Fairview, Allen, Prosper, The Colony, Little Elm, Lewisville, Denton, Collin County, Dallas County, Denton County, and the surrounding areas.