Frisco DWI Prescription Drug Attorneys
Lawyers Defense Drugged Driving Charges in Collin and Denton Counties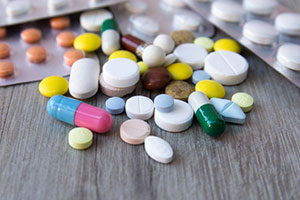 When you hear the term driving while intoxicated, you most likely think of a person driving after having too many alcoholic beverages. While drunk driving is the most common form of DWI, it is not the only type of impaired driving that can result in criminal charges. If you are found to be operating a motor vehicle on a public road in Texas while you are impaired by any type of substance, you could be arrested and charged with DWI—even if you have a valid prescription. In Texas, you can be charged with being intoxicated due to alcohol, drugs, prescription drugs, or ANY OTHER SUBSTANCE.
At the Law Offices of Biederman & Burleson P.L.L.C., our attorneys provide aggressive, responsible defense representation for individuals who are facing charges for driving while impaired by prescription drugs. As former prosecutors, we understand the tricks and techniques that district attorneys will often use in an attempt to secure a conviction, and we know how to guard against them. Our team is committed to the belief that you deserve to be treated with respect and dignity, no matter what charges you are facing. We are equipped to help you protect your rights, your best interests, and your long-term future.
Texas DWI Laws and Prescription Drugs
According to Texas law, it is illegal to operate a vehicle while intoxicated. Section 49.01 of the Texas Penal Code defines "intoxicated" as "not having the normal use of mental or physical faculties by reason of the introduction of alcohol, a controlled substance, a drug, a dangerous drug, a combination of two or more of those substances, or any other substance into the body." There are dozens, if not hundreds, of prescription drugs that could affect your ability to operate a motor vehicle safely, including methadone, hydrocodone, oxycodone, Valium, Xanax, and many more. Even prescription antihistamines for seasonal allergies could potentially cause impairment.
The penalties for driving while impaired by a prescription drug are the same as a "regular" DWI conviction. You could face up to six months in jail and $2,000 in fines for a first offense, as well as a license suspension of up to one year. The severity of the charges and the associated penalties are increased for asecond, third, or subsequent conviction.
Building a Strong Defense to Drugged Driving Charges in Lewisville and Little Elm
In order to convict you for DWI related to prescription drugs, prosecutors must prove beyond a reasonable doubt that you were impaired by the drug in question. There is no statutory accepted standard for impairment caused by a prescription drug like there is for impairment caused by alcohol. As a result, such cases often rely heavily on the testimony and reports of the police officers on the scene.
Attorneys Troy Burleson and Hunter Biederman respect and admire law enforcement officers, but we realize police officers can and often do make mistakes. In many cases, such mistakes can lead to the full dismissal of the charges against you. We will carefully review the details of your arrest and the circumstances that led to it, looking for any and all information that could be used in building your defense.
We Know How to Get Results
"Joe" was in a rollover accident at about 9 AM. When the police arrived, they tested Joe for intoxication even though they did not smell alcohol on his breath. They constantly pulled Joe away from the paramedics on the scene to further their investigation. An officer even rode with Joe in the ambulance to the hospital so questioning could continue.
Joe admitted to taking his prescription medications as prescribed, but nothing else. When Joe was released from the hospital, the officer arrested Joe on suspicion of DWI.
The blood test came back, showing that Joe only had prescription drugs in his system. As usual, the District Attorney charged Joe anyway. The state refused to acquiesce, so we went for a trial by jury. During the trial, we convinced the jury that the state could not prove that Joe lost the normal use of his mental or physical faculties due to drugs or alcohol. They quickly found our client NOT GUILTY, allowing us to get Joe a full expunction.
Our lawyers have more than 27 years of experience, and we have secured more than 500 not guilty verdicts in DWI trials. We are also equipped to help negotiate reduced charges and lower penalties when appropriate. You can rely on us to provide trusted guidance and skilled representation when you need it most.
Call 469-333-3333 Today
If you have been charged with driving while impaired by a prescription drug in North Texas, contact our office. Call 469-333-3333 to schedule a free consultation and case review with a member of our team today. The Law Offices of Biederman & Burleson P.L.L.C. serves clients in Collin County, Denton County, Dallas County, and the surrounding areas.