Collin County Kidnapping Defense Attorneys
Criminal Lawyers for Abduction and Unlawful Restraint Charges in Frisco, McKinney and Denton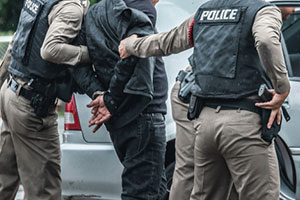 Charges associated with abduction or kidnapping are extremely serious, and a conviction will result in very severe penalties. In addition to consequences such as prison time and expensive fines, your personal and professional reputation are likely to be destroyed as well. The good news is that you do not need to face kidnapping charges alone.
At the Law Offices of Biederman & Burleson P.L.L.C., our attorneys recognize that accusations of kidnapping or abduction are most often caused by misunderstandings between a child's parents or other individuals in the child's life. We also understand that there may be many other variables that could affect how the case plays out. Our lawyers have more than 27 years of combined legal experience, and we have successfully defended hundreds of clients facing serious criminal charges, including charges related to kidnapping. We know what it is at stake, and we are equipped to help you.
Kidnapping and Unlawful Restraint
Texas law provides for a wide range of charges associated with kidnapping, starting at a Class A misdemeanor to a felony of the first degree. If the alleged offense involves a child, the charge will be at least a state jail felony. A charge of unlawful restraint of a child could be filed if you are believed to have interfered with a child's liberty or restricted his or her freedom without the consent of the child's parent or guardian. Unlawful restraint of a child is a state jail felony, but the charge becomes a third-degree felony if the child was placed in danger of serious injury.
The charge of kidnapping is at least a third-degree felony as well. According to Section 20.03 of the Texas Penal Code, a person commits the offense of kidnapping if he or she knowingly and intentionally abducts another person. In this context, "abducting" a person means limiting the persons' freedom by holding the person where he or she is not likely to be found or restricting the individual's movements through the threat or use of deadly force.
A kidnapping charge may be considered aggravated kidnapping if the offense is committed using a deadly weapon or with the intention of:
Holding the victim for a reward or ransom;
Using the victim as a shield or hostage;
Facilitating the commission of a separate felony;
Injuring or sexually abusing the victim;
Terrorizing the victim or another individual, such as the victim's spouse or parent; or
Interfering with political or governmental operations.
Aggravated kidnapping is prosecuted as a first-degree felony, which carries penalties for a conviction of up to life in prison.
Dallas County Attorneys for Federal Kidnapping Charges
Many kidnapping charges are handled in county court and prosecuted at the state level. In some cases, however, federal agencies may take an interest if there is reason to believe that the victim was taken across state or international borders. When federal entities get involved, any resulting charges will probably be prosecuted in federal court. Federal charges related to kidnapping are extremely serious and carry possible sentences of 20 years or more in a federal penitentiary. Our attorneys have the knowledge, resources, and experience to help you fight charges of kidnapping in both Texas and federal court.
Building Your Defense in Denton and Lewisville
At the Law Offices of Biederman & Burleson P.L.L.C., we know that a criminal defendant is presumed to be innocent until he or she is proven guilty beyond a reasonable doubt—even in cases of alleged kidnapping. When you choose our firm to help you, you will be treated with dignity and respect as we work to ensure that your best interests are protected. Our lawyers will listen carefully to your side of the story, then go to work in reviewing the details of your arrest. We will look for holes in the prosecution's case, as well as any weaknesses in the state's evidence so that we can build the best possible defense for you. No matter what type of charges you may be facing, we will remain at your side every step of the way.
Schedule a Free Consultation
If you or someone you love is facing kidnapping or abduction charges in North Texas, contact our office. Call 469-333-3333 for a free consultation and case evaluation today. Our firm serves clients in Collin County, Denton County, Dallas County, and the surrounding areas.