Collin County DWI Attorneys Assist Clients Who Failed Blood Test
DWI Defense Lawyers Serving Frisco and McKinney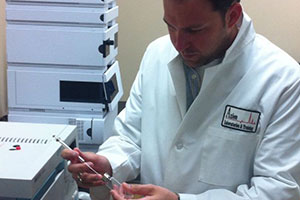 According to Texas law, a person is considered to be intoxicated if his or her blood-alcohol concentration (BAC) is 0.08 or higher, presuming that the person is of legal drinking age. For many years, the most common way to test a person's BAC was by a breath test—informally known as a breathalyzer. More recently, however, blood tests have become increasingly popular in the fight against drunk driving. Many people, including police officers and prosecutors, believe that blood tests for BAC are far more accurate than breath tests are. While there may be some truth behind such a belief, blood tests are not perfect, and mistakes happen quite often.
At the Frisco-based Law Offices of Biederman & Burleson P.L.L.C., our attorneys have helped many clients successfully defend against charges of driving while intoxicated (DWI) even though they "failed" their blood tests. We understand that the procedures used by the police during blood draws and subsequent testing are often flawed, and we know how to look for errors that could be used in building a strong defense. If you are facing DWI charges and you have failed a blood test, our team is equipped to help.
Implied Consent and DWI Blood Tests in Texas
By operating a motor vehicle on the public roads of the state of Texas, you are presumed to have agreed to submit to BAC testing in the event that you are ever arrested on suspicion of DWI. This presumption is known as "implied consent." BAC testing in Texas is done by either a breath or blood test. If you refuse a test subsequent to a DWI arrest, your driver's license will automatically be suspended for six months. The suspension will be for two years if you had a prior refusal, failed test, or DWI conviction in the last 10 years. In addition to the administrative penalties, prosecutors can also use your refusal against you during prosecution.
The team at the Law Offices of Biederman & Burleson P.L.L.C. has advanced training in Blood Testing. Most blood tests in Texas are conducted on Gas Chromatographs, and our attorneys know these instruments inside and out. In fact, Hunter Biederman trained at the famed "Axion Analytical Labs" in Chicago, IL for a week learning the ins and outs of these instruments. Mr. Biederman trained under Dr. Lee Polite, and Dr. Harold McNair. Dr. McNair is considered a "rock star" in the field of chromatography and literally wrote the book on the subject. Because of Mr. Biederman's advanced knowledge, he has spoken to other attorneys across the State of Texas on how to properly fight blood test cases and is considered one of the most foremost authorities on the subject.

Refusing a test, however, does not mean that the test will not be done. The arresting officer could still get a warrant allowing a blood test to be administered despite your refusal. With today's technology, many jurisdictions have judges available 24 hours a day to issue warrants, which means that you could have your license suspended for refusing a test and still be forced to undergo a blood test anyway.
Denton County Attorneys Who Get Results
Our client "Dana" was stopped for making a wide right turn, and she admitted to having a few drinks. She was put through a battery of field sobriety tests while four officers watched. Dana was scared out of her mind, and the officers claimed she failed the tests. She was arrested and taken to the police station where a blood test was conducted. The results indicated a BAC of 0.19, more than twice the legal limit.
At trial, attorneys from the Law Offices of Biederman & Burleson P.L.L.C. cross-examined the state's expert, who could not prove up the scientific theory that supported the accuracy of the blood test. The Judge did not allow the blood test into evidence, and the jury did not get to hear the results. Our cross-examination of the arresting officer also demonstrated the bias of the field sobriety tests. The jury returned a verdict of NOT GUILTY for Dana.
Defending Against Failed Blood Tests
Attorneys Hunter Biederman and Troy Burleson realize that there are many possible ways to handle a case in which you have failed a DWI blood test. The right way will depend on the specific circumstances of your situation. For example, if the police officer did not have probable cause to stop you in the first place, the entire case against you could be dismissed. Alternatively, if the officer did not follow proper testing procedures or there was the possibility that your blood sample was tainted in some way, the blood test results could be thrown out.
Our team has secured more than 500 trial victories in DWI cases, including more than 100 that involved failed blood or breath tests. We know what it takes to get results, and we are ready to put our experience and knowledge to work on your behalf.
Schedule a Free Consultation Today
To learn more about our law firm and how our team can help you defend against DWI charges, contact our office. Call 469-333-3333 for a free, no-obligation consultation and case review at the Law Offices of Biederman & Burleson P.L.L.C. today. We serve clients in Frisco, McKinney, Plano, Allen, Fairview, Prosper, Denton, Lewisville, Little Elm, The Colony, Collin County, Denton County, Dallas County, and the surrounding areas.