Collin County Juvenile Crime Lawyer
Attorneys Serving Denton and McKinney Teens Charged with DUI, Drugs, Theft or Violent Crimes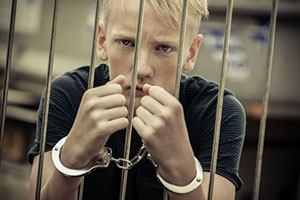 Getting a phone call from the police about your child's arrest can be one of the most frightening moments in a parent's life. Not only does a conviction lead to serious penalties such as detention and fines, but also a permanent criminal record that can ruin your child's future. After learning of your child's arrest, you must seek legal representation from an experienced lawyer to obtain the best possible outcome in the case.
If your child has been arrested for a criminal offense, our Collin County juvenile crime attorneys at Biederman & Burleson are committed to guiding you and your child through the complexities of the Texas juvenile court system. With more than 27 years of combined legal experience, including time spent as prosecutors, we understand what it takes to secure the most favorable results on behalf of our clients.
Our firm handles the following types of juvenile crimes:
Texas Juvenile Court System
If a child between 10 and 17 years of age commits a crime in Texas, he/she is subject to the state juvenile court system. Unlike criminal court proceedings designed to punish adults, the purpose of the juvenile court system is to rehabilitate minors and help them avoid becoming repeat offenders through probation, counseling, educational courses, vocational training, and other rehabilitative services.
Unless a minor commits a serious violent or sex crime, he/she will be arrested and released to their parents. In many cases, first-time offenders may be eligible for a "first offender program," which enables juvenile offenders to use rehabilitative services for a certain period in exchange for having their charges drop upon completion of the program.
In addition, deferred prosecution is available for minors who don't have a history of delinquent behavior. Minors will be on probation for up to six months and must meet certain requirements (e.g. pay fines and/or restitution, take educational courses, enter rehab, etc.). Similar to a first offender program, when a minor completes all requirements during deferred prosecution, his/her case is closed.
However, if a minor is sent to juvenile court and found guilty of committing delinquent conduct, he/she could be either sentenced to probation or to a detention facility for a specific period. After getting released from a detention facility, a minor will most likely serve parole time.
Ready to Fight for Your Child Today
Do not let a mistake haunt your child for the rest of his or her life. Our legal team will protect their rights, reputation, and future. We have obtained hundreds of "not guilty' verdicts for our clients by providing them with effective and personalized legal solutions.
Call us today at 469-333-3333 for a free consultation. We help juveniles in Collin County, Denton County and Dallas County, Texas.