Collin County Robbery Defense Lawyers
Skilled Attorneys for Violent Theft Crimes in Frisco and McKinney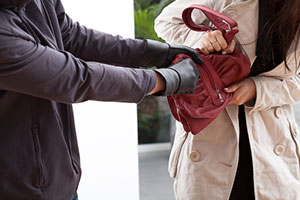 Under Texas law, robbery is defined as appropriating another person's property through the use of force or the threat of force. Unlike most other offenses related to theft, robbery is generally considered a crime of violence. As a result, if you are facing robbery charges and you are convicted, you could go to prison for a very long time.
At the Law Offices of Biederman & Burleson P.L.L.C., our experienced criminal defense attorneys understand how to defend against robbery-related charges in Texas. Our team has secured hundreds of trial victories and countless other favorable outcomes for our clients, including many who were charged with robbery, armed robbery, or aggravated robbery. With our background and knowledge of the law, we are equipped to help you protect your rights and your freedom.
Robbery Charges and Penalties in Texas
The offenses of burglary and robbery are often confused with one another. It is not uncommon, for example, for a homeowner or business owner to claim that they were "robbed" when, according to Texas law, they were actually the victim of burglary and theft, not robbery. Burglary refers to gaining unauthorized access to a building or vehicle with the intent to steal something, assault someone, or commit some other felony. Violence, including threats of violence, is not a required element of a burglary charge.
In order for prosecutors to convict you on robbery charges, they will need to prove that you:
Intentionally, knowingly, or recklessly caused someone else to suffer bodily injury while committing a theft; or
Intentionally or knowingly threatened or placed someone else in fear of bodily injury or death while committing a theft.
Robbery is a second-degree felony in Texas, punishable by up to 20 years in state prison and fines of up to $10,000.
Aggravated or Armed Robbery
If you are suspected of using or exhibiting a deadly weapon during the commission of a robbery, you will likely face first-degree felony charges for aggravated robbery, sometimes known as "armed robbery." Aggravated robbery charges are also possible if you are accused of causing serious bodily injury to a victim or any injury whatsoever to an elderly or disabled victim. A conviction on aggravated robbery charges could result in a prison sentence of up to 99 years.
Denton Defense Attorneys Protecting Your Rights
When you have been arrested and charged with a crime such as robbery, it is important to contact a qualified criminal defense attorney right away. You should not make any statements to the police or prosecutors without your attorney present. At the Law Offices of Biederman & Burleson P.L.L.C., we can be reached 24 hours a day, seven days a week, and we are ready to go right to work on your behalf.
Our lawyers will conduct a full review of the case against you, including the circumstances of your arrest and the behavior of law enforcement officers. We will look for holes or weaknesses in the state's case against you, as well as any other details that could be useful in building your defense. When appropriate, we will negotiate with prosecutors from a position of strength to get the charges against you reduced or dismissed altogether. However, we are also fully prepared to aggressively defend you at trial.
Call a McKinney Defense Attorney
To learn more about our firm and how we can help you defend against robbery charges, contact our office. Call 469-333-3333 for a free consultation and case review at the Law Offices of Biederman & Burleson P.L.L.C. today. We serve clients in Collin County, Denton County, Dallas County, and the surrounding areas.