Frisco Defense Attorneys for Vehicle Burglary Charges
Criminal Lawyers in Collin County for Clients Charged with Breaking into Cars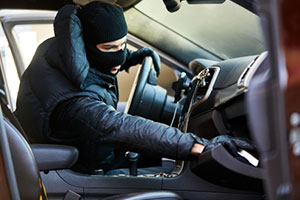 Under Texas law, you can be charged with burglary if you are suspected of gaining access to a habitation or any other type of building with the intent to commit theft, assault, or some type of felony. Sometimes known as "breaking and entering," burglary is a serious offense that carries severe penalties for a conviction. For the purposes of the state's burglary law, vehicles that are adapted for sleeping accommodations, such as recreational vehicles and campers, are considered "habitation." But, what if you are suspected of breaking into a vehicle that is a regular car or truck? Could you still face burglary charges?
At the Law Offices of Biederman & Burleson P.L.L.C., we understand that Texas law defines a separate offense of "burglary of vehicles" to address such a situation. Our lawyers also know that the consequences associated with a conviction on burglary of vehicle charges are serious and could follow you for the rest of your life. If you are facing criminal charges related to breaking into a car or truck, our team is equipped to help you protect your rights and your future.
Understanding Burglary of Vehicles Charges in Denton County
According to Section 30.04 of the Texas Penal Code, a person commits burglary of vehicles if he or she gains access to any vehicle or part of a vehicle without the consent of the owner while intending to commit a theft or any felony. It is important to understand that a burglary of vehicles charge does not require you to break into the vehicle, nor does it require you to actually steal anything. You could be charged for opening an unlocked car door or reaching your arm in an open window with the intent to take something. Burglary of vehicles also includes using a coat hanger or crowbar to open a locked door or vehicle's trunk with the intent to steal.
Burglary of vehicles is usually a Class A misdemeanor for a first offense, punishable by up to one year in jail and fines of up to $4,000. A second conviction is a Class A misdemeanor with a minimum prison sentence of six months, with up to one year possible. A third or subsequent conviction is a state jail felony, which carries a state jail sentence of up to two years and fines of up to $10,000.
Building Your Defense in Prosper and Fairview
Attorneys Hunter Biederman and Troy Burleson are accomplished criminal defense trial lawyers with more than 27 years of combined legal experience. Together, they have secured hundreds of trial victories and negotiated favorable outcomes for their clients, including many charged with burglary of vehicles.
In order to convict you of burglary of vehicles, prosecutors will need to prove every element of the offense beyond a reasonable doubt. Our job is to help you avoid a conviction by creating reasonable doubt. To do so, we will conduct a full review of the alleged offense, how you were identified, and the circumstances of your arrest. We will carefully examine all of the state's evidence, looking for any weaknesses or holes that could be useful in building your case.
Depending on the results of our review, we might be able to show that you had the owner's consent to access the vehicle or that you had no intent of committing a theft or another felony. We could even show that you were arrested as a result of mistaken identity. No matter how serious the charges against you may be, our attorneys will remain at your side every step of the way.
Schedule a Free Consultation
To learn more about our firm and our approach to defending against burglary of vehicle charges, contact our office. Call 469-333-3333 for a free consultation and case review at the Law Offices of Biederman & Burleson P.L.L.C. today. Our lawyers serve clients in Frisco, McKinney, Plano, Fairview, Allen, Prosper, Denton, Lewisville, The Colony, Little Elm, Dallas County, Denton County, Collin County, and the surrounding areas.