THC Oils, Edibles, and Concentrates Attorneys in Collin County
Frisco Drug Possession Defense Lawyers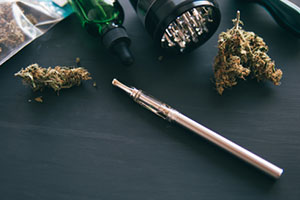 The legalization and decriminalization of marijuana in a number of states have changed the way that many individuals access and use the drug. Vape pens, oils, edibles, and other products that contain THC concentrates are becoming increasingly popular among cannabis users.
Regardless of what is going on in other states, marijuana is still illegal in the state of Texas, and the penalties associated with possessing or using marijuana are often serious. However, if you are arrested for the possession or use of a product containing THC extracts or concentrates, you are likely to face even more severe charges and penalties. Texas law does not treat THC concentrates the same way it treats marijuana "buds. or flowers" In fact, possessing even a trace amount of a THC oil or concentrate could lead to felony charges.
At the Law Offices of Biederman & Burleson P.L.L.C., our experienced attorneys have a strong working knowledge of the laws regarding marijuana and THC products in Texas. We are also committed to helping you avoid a conviction and to securing the best possible outcome for your case. If you have been arrested and charged with any offense related to THC oils, edibles, or other products, contact us to get the help you need.
What Are THC Extracts?
THC is short for tetrahydrocannabinol, the component of marijuana that delivers the "high." There are various processes through which THC can be extracted from the resin that forms on the cannabis plant. The extracted and concentrated THC can then be used in products such as oils, lotions, and waxes. It can be even be used in edible products such as candies and baked goods.
Texas law does not recognize the resin collected from cannabis plants as marijuana. Instead, it is considered a separate substance that is classified as a Penalty Group 2 drug. This means that the possession of less than one gram is a state jail felony, punishable by up to two years in jail and fines of up to $10,000. If you are found to be in possession of larger amounts, you will likely face increased charges and penalties.
It is critical to remember that the amount in question will likely include the weight of the entire product, not just the THC extract. This means that a single pan of brownies made with concentrated THC could be enough to allow for first-degree felony charges!
Dallas County Lawyers Who Get Results
"Justin" purchased a product from a local "legal" CBD store. He was stopped for a traffic offense, and the officer noticed the CBD product, field-tested it (it came up positive for THC), and charged Justin with possession of a THC concentrate product.
We believed that Justin had done nothing wrong, so we set the case for trial. At trial, the officer testified that the product contained THC and was therefore illegal. The state also produced a forensic scientist who testified that, in his opinion, the product was illegal under Texas law.
During cross-examination, we were able to show that the forensic scientist did not follow proper scientific protocols when testing the product. Specifically, the scientist did not perform a quantitative analysis on the product that showed the presence of any THC. The jury did not believe the testimony offered by the state, holding that the product was purchased legally. Justin was found NOT GUILTY and eligible to have his record expunged.
Protecting Your Constitutional Rights in Plano and Prosper
Attorneys Troy Burleson and Hunter Biederman have more than 27 years of combined criminal law experience. Together, they have helped many clients successfully defend against charges related to THC oils, edibles, and other products. At our firm, we understand that the strongest evidence in most drug cases is the drug itself. This means that if the drug was found during an illegal search or the evidence was not handled correctly, it could be thrown out—along with the entire case against you.
When you contact us to help with your case, we will conduct an in-depth review of the circumstances that led to your arrest. We will examine police records, witness statements, and any other information that could be useful in building your defense. Based on the results of our investigation, we will work with you in deciding on how to proceed. When appropriate, we will negotiate with prosecutors to reduce or dismiss the charges against you, but we are fully prepared to take your case to trial as well.
Schedule a Free Consultation
To learn more about our firm and our team-based approach to drug crime cases, contact our office. Call 469-333-3333 for a free consultation at the Law Offices of Biederman & Burleson P.L.L.C. today. We serve clients in Frisco, McKinney, Plano, Allen, Fairview, Prosper, Little Elm, Denton, Lewisville, The Colony, Dallas County, Denton County, Collin County, and the surrounding communities.