Collin County Shoplifting Defense Attorneys
Criminal Lawyers for Clients Charged With Retail Theft in McKinney and Frisco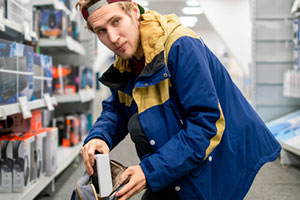 Each year, shoplifting and other forms of retail theft cost retailers throughout the United States billions of dollars in lost revenue. As a result, department stores, big-box retailers, and mom-and-pop shops are continually looking for new methods of deterring would-be shoplifters and preventing all types of retail theft. There is also a great deal of pressure on the police and local prosecutors to deal with suspected thieves harshly.
At the Law Offices of Biederman & Burleson P.L.L.C., we firmly believe in the importance of due process. We also believe that every criminal suspect, including those accused of shoplifting, deserves to be treated with dignity and respect. If you are facing charges related to shoplifting or retail theft, our attorneys are equipped to help you protect your rights, your future, and your best interests.
Consequences of a Shoplifting Conviction in Texas
Unlike some other states, Texas does not recognize shoplifting or retail theft as distinct offenses. Instead, such acts are prosecuted under Chapter 31 of the Texas Penal Code—the chapter that generally addresses theft crimes. The severity of a shoplifting charge and the penalties associated with a conviction will depend on a number of factors, including the type and value of the merchandise that was allegedly taken.
Low-level shoplifting may be charged as a misdemeanor offense, with penalties that could include fines and jail time. Those who are accused of stealing high-value merchandise could face felony charges and penalties of up to life in prison in extreme cases. Retail theft charges can also be elevated if you are accused of tampering with or deactivating anti-theft devices.
Other Forms of Retail Theft
While shoplifting is, by far, the most common form of retail theft, there are many other actions that could result in criminal charges being filed against you, including:
Price-tag switching: Changing tags on more expensive merchandise in order to pay a lower price;
Misusing self-checkout machines: Using self-checkout lanes to avoid paying for certain items;
Coupon fraud: Using doctored, copied, or unauthorized coupons or discount codes; and
Employee misconduct: Under-ringing merchandise, intentionally not ringing up items, removing merchandise, and theft by employees.
No matter what type of charges you may be facing, our lawyers will help you find a resolution that allows you to avoid a conviction and move on with your life.
Trusted Collin County Defense Counsel
Attorneys Hunter Biederman and Troy Burleson have more than 27 years of combined legal experience. At our firm, we use a client-focused, team-based approach that has helped us secure hundreds of trial victories, including many cases in which our clients were charged with retail theft.
When you contact our firm, your case becomes our top priority. We will go right to work in investigating the circumstances of your arrest and the events that led to it. Our lawyers will review police reports, witness statements, and available surveillance footage to gain an understanding of the state's evidence against you. We will also examine the procedures and protocols used by both store personnel and law enforcement before, during, and after your detainment. Depending on the situation, we might be able to get the charges against you dismissed quickly, but we are also fully prepared to protect your interests at trial if necessary.
Schedule a Free Consultation
If you or someone you love is facing charges related to shoplifting, contact our office. Call 469-333-3333 for a free consultation at the Law Offices of Biederman & Burleson P.L.L.C. today. We represent clients in Frisco, McKinney, Plano, Little Elm, Denton, Lewisville, Collin County, Denton County, Dallas County, and the neighboring communities.