Frisco, Texas Drug Delivery, Distribution, and Trafficking Defense Attorneys
Lawyers in Collin County for Clients Facing Drug Charges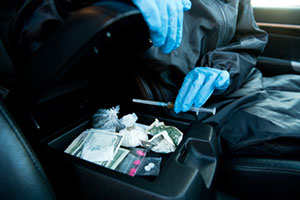 Offenses related to the distribution, manufacturing, and trafficking of illegal drugs violate a number of state and federal statutes, including the Texas Controlled Substances Act. You could face charges for drug trafficking if you are suspected of distributing or delivering marijuana, THC products, cocaine, heroin, methamphetamine, or any other illegal or controlled substance. The distribution of drugs such as these is prosecuted as a felony under the Texas law, and the penalties for a conviction are severe.
The experienced attorneys at the Law Offices of Biederman & Burleson P.L.L.C. understand the serious nature of drug crimes, including distribution and trafficking. We know that a conviction will result in harsh penalties, as well as other consequences that could affect all areas of your life. Our team has successfully defended many clients facing drug trafficking and distribution charges, and we know how to get results. If you have been charged with a serious drug-related offense, we will do whatever it takes to help you avoid a conviction while ensuring that your rights are fully protected.
Drug Distribution and Trafficking Offenses in Dallas County
The severity of a drug trafficking or distribution charge in Texas will largely depend on the specific drug involved, as well as the amount of the drug and your prior criminal history. It is important to realize that you could face trafficking or distribution charges even if you never delivered or distributed drugs to anyone else. Police officers could assume that you intended to distribute illegal drugs if the amount found in your possession is more than what would be "reasonable" for your own use. Reasonable, of course, is subjective, and our attorneys can help you challenge such charges from the very beginning.
Other factors could also contribute to a charge for drug trafficking, including but not limited to:
A significant amount of one or more controlled substances;
Large amounts of cash;
Weapons, security devices, or other protective measures found with the drugs; and
Scales, packaging materials, and other equipment used to prepare or package drugs.
If you are arrested on drug trafficking or distribution charges, you should contact one of our attorneys immediately so that we can get started on building your defense.
Federal Drug Crimes Defense Attorneys
Many drug cases, especially those involving amounts intended for personal use, are handled in county courts by district attorneys on behalf of the state of Texas. Cases that involve larger amounts or the possible trafficking of drugs across state lines are often investigated by federal agencies such as the FBI and DEA. Charges stemming from a federal investigation will usually be filed in federal district court.
Federal drug charges are generally more serious than those filed at the state level. Convictions for manufacturing and trafficking offenses typically carry mandatory minimum prison sentences of at least five years for a first offense. Our attorneys are prepared to defend clients in both state and federal court.
Defense Lawyers You Can Depend On
Attorneys Hunter Biederman and Troy Burleson understand what is at stake when you are facing charges related to drug distribution or trafficking. Our team has the knowledge, skills, and resources to help you build an aggressive, responsible defense against both state and federal drug charges. From the moment you contact our firm, our goal is to assist you in avoiding a conviction. Along the way, we will work to ensure that you are treated with the respect and dignity that you deserve.
Contact Us Today
For more information about our team-based approach to drug cases in Texas, contact our office. Call 469-333-3333 to schedule a free consultation and case review at the Law Offices of Biederman & Burleson P.L.L.C. today. Our firm represents clients in Frisco, Plano, McKinney, Lewisville, Denton, Little Elm, Dallas County, Denton County, Collin County, and the surrounding areas.