Conspiracy Defense Attorneys in Collin County
Plano, Texas Lawyers for Clients Charged With Conspiring to Commit Federal Crimes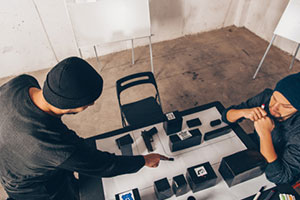 Did you know that it is possible to face federal criminal charges without actually completing the commission of a criminal offense? While it might seem harmless to think or talk about the idea of committing a crime or making plans to commit a crime without actually going through with it, the reality is that such conservations or plans could lead to federal charges for conspiracy. Conspiracy charges are possible even if the primary criminal act was never carried out.
At the Law Offices of Biederman & Burleson P.L.L.C., our lawyers are experienced criminal defense attorneys who have handled many cases in federal court. We understand the seriousness of federal conspiracy charges, and we realize that the penalties associated with a conviction are severe. With this in mind, it is crucial to have a qualified federal criminal defense attorney on your side if you are facing charges of criminal conspiracy, regardless of whether you have been charged with any other related crimes.
Criminal Conspiracy Defense Counsel in Sherman and Plano
Federal charges for criminal conspiracy can be filed in connection with any federal offense. When such charges are filed, it means that prosecutors believe that two or more individuals agreed in some way to commit a federal crime together. In order to secure a conviction in a federal conspiracy case, the prosecuting United States attorney will need to show:
At least two people agreed to act;
The conspiracy suspect understood the goal of the agreement to act (the intended crime);
The suspect participated willingly; and
Depending on the primary offense, at least one participant of the conspiracy took an affirmative step toward the commission of the illegal act.
It is important to keep in mind that the primary or intended crime does not need to have been completed. Three people, for example, could come up with a plan to rob a federal bank. Somehow, federal authorities uncover the plan and arrest the trio on their way to commit the crime. The bank was not robbed, but the three people involved would likely face federal charges for criminal conspiracy. If the robbery had been completed, and the arrests were made after the fact, the suspects would probably face charges for both the robbery and conspiracy.
You should also be aware that you could face conspiracy charges even if you do not know the full scope of the intended crime or the conspiracy itself. For example, if your friend asks you to drive a car that you know is carrying illegal drugs to a drop off point, you could be charged with drug trafficking and conspiracy, regardless of the fact that you did not know who would pick it up or where the drugs were ultimately headed.
Plano Attorneys Committed to Protecting Your Rights
The attorneys at the Law Offices of Biederman & Burleson P.L.L.C. will go right to work on your behalf as soon as you contact our office. We realize that a federal criminal case is often based on months of careful investigation, which means that there is usually a substantial amount of evidence gathered before any arrests are made. Our lawyers will review the government's evidence, looking for any weaknesses or potential issues that could be important in building your defense. Depending on the situation, we might also be able to negotiate with the government's attorneys regarding the reduction or elimination of some of the charges against you. We will do everything we can to help you avoid a conviction and to protect your future.
Call 469-333-3333 Today
If you are facing charges in federal court for criminal conspiracy, contact our office immediately. Call 469-333-3333 to schedule a free consultation and case review with a member of our team today. Our firm serves clients in Frisco, McKinney, Plano, Fairview, Allen, Prosper, The Colony, Little Elm, Lewisville, Denton, Dallas County, Denton County, Collin County, and the surrounding areas.