Collin County Criminal Defense Lawyers
Lawyers for Those Facing DWI Charges and Other Criminal Charges in Frisco and McKinney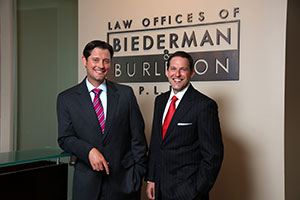 If you or a member of your family are facing criminal charges, you might be tempted to try to figure the situation out on your own—especially if the charge is for what seems to be a minor offense. Attempting to navigate the Texas criminal justice system alone is not a good idea, regardless of the charges you are facing. You need a qualified attorney with the experience and resources to help you understand your options and to assist you in avoiding a conviction. You need the Law Offices of Biederman & Burleson P.L.L.C..
At our law firm, our attorneys have more than 25 years of combined legal experience in courtrooms in and around Collin County and the rest of North Texas. With our team-based approach, we have helped secure hundreds of dismissals and "not guilty" verdicts for clients facing all types of criminal charges. Our lawyers understand what is at stake when you have been charged with a crime, we will do what it takes to protect your future.
Leaders in the Field of DWI Defense
Attorneys Hunter Biederman and Troy Burleson are well-known in legal circles around the country for their work in DWI cases. Together, they have successfully taken over 400 DWI cases to trial, including many that involved failed blood, breath, and field sobriety tests. While we are certainly proud of our history of success and our reputation, our focus is always on the case at hand.
When you contact us to handle your DWI case, you will receive personal attention from our attorneys every step of the way. We will conduct a full investigation into the circumstances of your arrest, looking for any and all information that could be used in building your defense. As your case moves along, we will remain accessible to answer your questions or address any concerns that may arise. At the Law Offices of Biederman & Burleson, PLLC, we handle all kinds of DWI-related cases, including:
Criminal Defense in Fairview and Prosper
Our firm is best known for DWI defense, but our lawyers are fully equipped to handle a wide range of other criminal matters as well. We know that there is no such thing as a minor conviction in Texas, as any conviction could potentially follow you for the rest of your life. With that in mind, the Law Offices of Biederman & Burleson, PLLC provides trusted representation and guidance to clients facing charges related to:
We also help clients seeking a fresh start through the process of expunction and orders of non-disclosure.
Call 469-333-3333 Today
At the Law Offices of Biederman & Burleson, PLLC, we are ready and willing to help you with your case. To learn more about our firm or to schedule a free consultation, contact our office. Call 469-333-3333 for an appointment today. We serve clients in Frisco, McKinney, Plano, Allen, Prosper, Fairview, Denton, Little Elm, Lewisville, The Colony, Denton County, Dallas County, Collin County, and the surrounding areas.