Frisco Second and Third DWI Arrest Attorneys
Lawyers Represent Repeat Drunk Driving Offenders in Collin and Denton Counties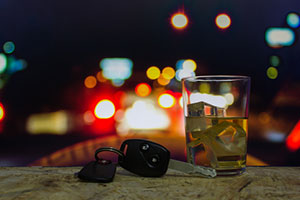 The penalties associated with being convicted of driving while intoxicated (DWI) in the state of Texas depend on many factors. A major consideration is whether or not you have been convicted of DWI in the past. In many cases, first-time DWI offenders can avoid incarceration, but things get much more difficult if you are facing DWI charges for a second, third, or subsequent time.
If you have been arrested on the suspicion of drunk driving and you have at least one previous DWI conviction on your record, it is vitally important that you work with a lawyer with experience and a history of success in fighting DWI charges. The skilled attorneys at the Law Offices of Biederman & Burleson P.L.L.C. have successfully helped hundreds of clients defend against charges of driving while intoxicated. Our team has the knowledge, resources, and skills to help you protect your rights and your future.
Multiple DWI Means Increased Penalties in Collin County
There is no such thing as a minor DWI charge in Texas. A conviction could leave you facing jail time and hefty fines, even if it is your first offense. If you already have a DWI conviction on your record, however, a second offense is much more serious, and a third offense is automatically a felony.
In Texas, there is no statutory time limit between DWI offenses for the purposes of enhancement. This means that even if you had a DWI 30 years prior, it could be used to enhance your current DWI case. As a result, a second DWI is often the most crucial case we handle. This is because if you are convicted of a second DWI, there is no limit as to when you can get a third DWI. For example, if you are convicted of a second DWI, and 30 years later you have wine at dinner with your grandkids and get pulled over, the officer would immediately know this was your potential third offense. The odds of you being arrested are increased significantly, and now you will be facing up to 10 years in prison.
A second DWI offense is a Class A misdemeanor, and carries penalties that include fines of up to $4,000 and 30 days to one year in jail. You will also have your driver's license suspended for up to two years, and you might be required to install an ignition interlock device (IID) on your vehicle. The court could also order you to participate in a DWI intervention program.
A third or subsequent DWI charge is at least a third-degree felony, with penalties that could include fines of up $10,000, up to 10 years in state prison, and a two-year suspension of your driver's license. You could also be ordered to install an IID and participate in a DWI intervention program.
Work With a Team Who Gets Results
Our client "Mike" was out with friends at a local bar. By the end of the night, he realized that he was too drunk to drive. It was winter, so he went outside and sat in his car with the heater on, deciding whether to wait until he was safe or to get an Uber. He fell asleep and awoke to the police knocking on his window. The police administered field sobriety tests, and Mike failed miserably. He also submitted to a blood test that showed his blood-alcohol content (BAC) as 0.21, almost three times the legal limit.
The District Attorney complained when we set the case for trial. They told us that it was a "slam dunk," and we were wasting their time. (Their exact words.)
At trial, the lawyers from the Law Offices of Biederman & Burleson P.L.L.C. argued that Mike was not actually "operating" his vehicle. In Texas, there is no accepted definition for "operating," and the District Attorney did not know that. We successfully convinced the jury that Mike was not operating the car for the purposes of "Driving While Intoxicated." After deliberating for just seven minutes, the jury came back and found Mike NOT GUILTY. The jury told us that someone who was purposefully NOT putting the public at risk did not deserve a DWI conviction.
Client-Focused Denton County Attorneys
At the Law Offices of Biederman & Burleson P.L.L.C., we have taken hundreds of DWI cases to trial, and we have successfully obtained more than 400 dismissals and not guilty verdicts for our clients. This number includes over 100 cases in which our clients failed blood or breath tests. We also have a proven track-record of success in reducing the penalties for our clients who are not able to avoid a conviction.
When you contact our firm, our attorneys will immediately go to work investigating the circumstances that led to your arrest. We will look for every possible detail that might be helpful in building your defense, including the accuracy of BAC testing procedures and the behavior of police officers. As your case moves along, you can depend on us to remain at your side, ensuring that your rights and best interests are fully protected every step of the way.
Contact Our Office Today
For more information about defending against DWI charges for the second, third, or subsequent time, contact our office. Call 469-333-3333 to schedule a free consultation and case review today. Based in Frisco, TX, the Law Offices of Biederman & Burleson P.L.L.C. serves clients in McKinney, Plano, Prosper, Allen, Fairview, Denton, Lewisville, Little Elm, The Colony, Collin County, Denton County, Dallas County, and the rest of North Texas.