Attorney Writ Bond Lawyers in Frisco, TX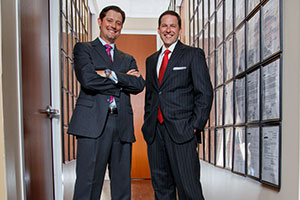 Collin County Attorney Writ Bonds for Getting Out of Jail
When a person is arrested and taken to jail on the suspicion that he or she committed a crime, Texas law generally requires the suspect to be brought before a judge to have a bond set before the suspect can be released. In some cases—especially on the weekend—a person could be forced to sit in jail for several days before a judge or magistrate is available to conduct a bond hearing. Fortunately, there is often a better option.
Depending on the severity and nature of the charges on which you were arrested, you may qualify for what is known as an "attorney writ bond." An attorney writ bond is an arrangement that a qualified licensed attorney can make with the Sheriff's Department to get you out of jail without having to see a judge—usually in just a couple of hours instead of days. At the Law Offices of Biederman & Burleson P.L.L.C., our lawyers have obtained attorney writ bonds for many of our clients facing a variety of criminal charges. Our team understands the writ bond process, and we will do what it takes to get you home as quickly as possible.
Attorney Writ Bonds in McKinney, Plano, and Frisco
An attorney writ bond can be used to get you out of jail if you have been arrested on certain criminal charges. Such bonds are most common in cases involving charges of driving while intoxicated (DWI), possession of marijuana, theft, and other non-violent misdemeanors. Writ bonds are not available if you have been arrested for assault, family violence, a traffic violation, or any felony.
The process of obtaining an attorney writ bond can begin as soon as you have been fingerprinted and processed at the local or county jail. The first thing you need to do is to contact the Law Offices of Biederman & Burleson P.L.L.C. to find out if you are eligible. Our phones are answered 24 hours a day, 7 days a week, and we have an attorney available at all times. You will usually be able to speak to one of our attorneys within just a few minutes, even in the middle of the night and on weekends.
From there, we will handle everything. If you are calling from the jail for yourself, we will come to you to arrange your release. If you are calling on behalf of a family member or a loved one who was arrested, you will not need to meet with our lawyer or even leave your home. All of the details, including any necessary payments, can be arranged over the phone or through email or text messages.
Collin County Bond Condition Hearing Lawyers
Within about 10 days of your arrest, you will probably be required to appear at a bond condition hearing in front of a judge or magistrate. At that hearing, you will be informed about the conditions that you must meet to remain free on the writ bond. If your arrest was for DWI with a blood-alcohol concentration of 0.15 or higher, you will be required to have an ignition interlock device (IID) installed on your vehicle. Other conditions may be set as well, and our attorneys are prepared to advocate on your behalf at the hearing.
Call 469-333-3333 Any Time of the Day or Night
If you or a loved one has been arrested, contact our office immediately to learn about your options for an attorney writ bond. Call 469-333-3333 to get help when you need it most. Our phones are answered 24/7, and you can speak to a lawyer within minutes. We serve clients in Frisco, McKinney, Plano, Fairview, Allen, Prosper, Denton, Lewisville, Little Elm, The Colony, Dallas County, Denton County, and Collin County.