Frisco, Texas Intent to Deliver Drugs Defense Attorneys
Lawyers in Collin County for Charges of Possession With Intent to Deliver or Manufacture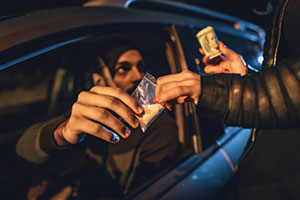 If you have been charged with the possession of an illegal substance with the intent to deliver or manufacture, you could be facing the possibility of life in prison and up to $250,000 in fines. The good news is that a charge is not a conviction. For this reason, you need aggressive, responsible representation from an attorney with experience in winning tough cases.
At the Law Offices of Biederman & Burleson P.L.L.C., our lawyers understand what is at stake when charges of possession with intent to manufacture or deliver are filed against you. Your freedom, financial security, and your future are all at risk. No matter how serious your situation may be, we are equipped to help you protect your rights and avoid a conviction if at all possible.
Understanding Intent to Deliver in Texas
Most of the statues that prohibit the possession, use, and distribution of illegal substances are contained in the Texas Controlled Substances Act. Under the Act, it is against the law for an individual to knowingly possess, deliver, or manufacture a controlled substance with the intent to distribute it. In this context, distributing and delivering a controlled substance mean about the same thing: dealing drugs. Most charges of intent to deliver are the result of an investigation by law enforcement officials, often with the help of tips from informants. They can enhance a possession charge to Intent to Deliver based on the surrounding circumstances. Scales, Baggies, individual doses, and even the amount of drugs in question can be proof utilized.
Intent to Manufacture
It is also against the law to possess drugs with intent to manufacture. According to the Texas Controlled Substances Act, "manufacture" means growing, cultivating, or processing an illegal drug. For example, a marijuana growing operation or a meth lab would be considered illegal drug manufacturing. The law provides that manufacturing can also mean breaking down packages of illegal drugs into smaller packages and preparing it for distribution. Therefore, if you are found with large amounts of a controlled substance, you could be charged with possession with intent to deliver or manufacture.
There are many factors that could be used by law enforcement or prosecutors to show that you had the intent to manufacture or deliver, including but not limited to:
An amount of drugs that is too much for personal use;
Equipment for weighing and packaging;
Large amounts of cash;
Weapons, guard dogs, or other security measures; and
Chemicals, cutting agents, or other materials.
The charges and penalties associated with intent to deliver or manufacture will depend on the drug in question, the amount found by law enforcement, and your previous history of drug crimes.
McKinney Counsel for Serious Drug Charges
When you contact the Law Offices of Biederman & Burleson P.L.L.C. about your case, we will go right to work in reviewing the circumstances of your arrest. We will look at the events that led to the investigation, the procedures used by law enforcement, and how you were treated before, during, and after you were taken into custody. Our lawyers will also conduct a full review of the state's case against you, including all of the evidence. We will look for any holes or weaknesses that could be used as the basis for your defense, and we will build your case accordingly. No matter what you have been charged with, our main priority is to help you avoid a conviction and return to your normal life.
Call 469-333-3333 Today
For more information about our firm and our team-based approach to drug crimes defense, contact our office. Call 469-333-3333 to schedule a free consultation and case review today. We serve clients in Frisco, McKinney, Plano, Fairview, Allen, Prosper, Denton, Little Elm, The Colony, Lewisville, Denton County, Dallas County, Collin County, and the surrounding areas.