Collin County DWI Marijuana Defense Lawyers
Attorneys in Frisco, TX for Clients Facing Charges Related to Driving While High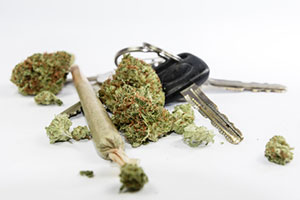 Over the last few years, lawmakers across the United States, including here in North Texas, have increased their efforts in the fight against impaired driving. Each year, thousands of individuals face charges of driving while intoxicated (DWI) in Texas, and there is no such thing as a minor DWI charge. A conviction carries serious penalties and a permanent mark on your criminal record. According to Texas law, however, DWI charges are possible even in situations where you have not consumed any alcohol whatsoever. A person who operates a motor vehicle on the public roads of Texas while under the influence of any substance—which includes marijuana—could face charges of DWI.
At the Law Offices of Biederman & Burleson P.L.L.C., we understand that drugged driving cases can be complex. We also know that facing DWI charges can be confusing and overwhelming. Fortunately, our attorneys have more than 27 years of combined experience in the practice of law. We have helped hundreds of clients successfully defend against DWI charges, and we are prepared to put our knowledge and skills to work for you.
Medical Marijuana and DWI in Texas
Texas lawmakers first established the state's medical marijuana program in 2017, offering patients with intractable epilepsy the ability to legally obtain and use certain low-THC cannabis products for medicinal purposes. In 2019, the medical marijuana program was expanded to include conditions such as Parkinson's disease, multiple sclerosis, terminal cancer, and a variety of seizure disorders. Most marijuana users in the state, however, do not have qualifying medical conditions, but even if they did, Texas law still prohibits driving while impaired. This means that if you smoke marijuana or consume it in any other form and you get behind the wheel, you could be arrested and charged with DWI.
DWI Defense Attorneys Who Understand the Law
One of the most challenging aspects of a DWI-marijuana case is that Texas law does not provide any type of standard for per se intoxication. With alcohol, the law is clear: a blood-alcohol concentration of 0.08 or higher constitutes per se intoxication. With marijuana, there is no such threshold in the law. The lack of a clear standard means that prosecutors can try to use any amount of marijuana in a person's system to imply that he or she was impaired.
At the Law Offices of Biederman & Burleson P.L.L.C., we know better than that. We realize that in order to be successful, prosecutors must prove beyond a reasonable doubt that you were impaired by marijuana. When you contact our firm, we will go right to work in investigating the details of your case. We will review blood test results and procedures, as well as the protocols followed by police officers. Our attorneys will do everything possible to help you avoid a conviction.
A History of Success
Attorneys Troy Burleson and Hunter Biederman have secured not guilty verdicts in more than 500 DWI trials, including many that involved marijuana. They have helped hundreds of others negotiate favorable plea deals that resulted in reduced charges and sentences. If you have been arrested and charged with driving while impaired as a result of marijuana use, you need top-quality representation from an attorney who knows how to get results. You need the Law Offices of Biederman & Burleson P.L.L.C..
Call 469-333-3333 for a Free Consultation
For more information about our firm and our approach to DWI-marijuana cases, contact our office. Call 469-333-3333 to schedule a free, no-obligation consultation and case review with a member of our team today. We serve clients in Frisco, McKinney, Plano, Prosper, Fairview, Allen, The Colony, Little Elm, Lewisville, Denton, Dallas County, Denton County, Collin County, and the surrounding areas.