Frisco Gun Charges Defense Attorneys
Collin County Lawyers for Firearms and Weapons Violations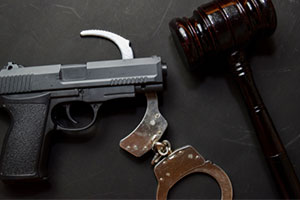 The state of Texas is thought by many to have relatively permissive laws regarding weapons and firearms compared to such laws in other states. The reality, however, is that prosecutors and the courts in Texas take gun charges very seriously, and a conviction on a weapons violation can have serious consequences. In addition, if you are accused of carrying or using a firearm in the course of committing a crime, the penalties are often much more severe than if you had committed the crime without a weapon.
If you are facing charges for unlawfully possessing or carrying a gun or you are facing increased criminal penalties for a crime that allegedly involved a firearm, the team at the Law Offices of Biederman & Burleson P.L.L.C. is equipped to help you. Our lawyers are experienced and skilled legal professionals with the tools and resources to assist you in defending against weapons charges in state and federal court. We will work hard to help you avoid a conviction.
Texas Defense Counsel Protecting Your Rights Under the Second Amendment
The Second Amendment to the U.S. Constitution guarantees that the government cannot infringe on the "right of the people to keep and bear arms." While many people will debate the original intention of the Second Amendment and how it applies to today's world, lawmakers and courts throughout the country have established that an individual has the right to own, possess, and carry firearms and other weapons with certain restrictions.
These restrictions may vary depending on the state and, in many cases, depending on the individual city or town. If you wish to carry a firearm in the state of Texas, you must obtain a Texas License to Carry (LTC) or have a valid and recognized concealed carry permit from another state. With a Texas LTC, you are allowed to open carry or concealed carry, but weapons are prohibited in certain areas and establishments.
Our attorneys understand that guns and other weapons can be very dangerous in the wrong hands, but we know that the vast majority of gun owners are law-abiding citizens with no desire to cause trouble. If you have been charged with possessing a weapon illegally, we will help you explore your options for building a defense.
"Stand Your Ground" and the Castle Doctrine
At the Law Offices of Biederman & Burleson P.L.L.C., our lawyers also recognize the rights provided by Texas law regarding defending yourself, your home, and the safety of others. The "Castle Doctrine" presumes that deadly force—including the use of a firearm—is justified and reasonable to protect yourself during an illegal, forcible invasion of your home, car, or place of business. You also have the right to "stand your ground," which means you are not obligated to try to escape from a situation in which deadly force is necessary to protect yourself or another person.
If you were forced to take decisive action that resulted in the death of a person who meant you harm, our team is fully prepared to go to work on your behalf. We know that such cases are often complex and controversial, but will do everything we can to protect your rights under the law.
Attorneys for Charges Involving Other Illegal Weapons
In addition to the restrictions on possessing and carrying firearms, Texas law also provides limitations on other types of weapons as well. It is a violation of the Texas Penal Code for you to intentionally or knowingly manufacture, possess, transport, sell, or repair:
Explosive weapons, including mines or grenades;
Machine guns;
Short-barrel firearms, including sawed-off shotguns;
Armor-piercing ammunition;
Devices that dispense chemicals
Zip guns
Devices designed to deflate tires;
Firearm silencers; and
Improvised explosive devices.
"Hoax" weapons, including anything that is designed to look like a real weapon or explosive, that are used with the intent of causing fear or alarm are also illegal. In most cases, the possession of an illegal weapon is a third-degree felony, punishable by up to 10 years in prison and fines of up to $10,000.
Attorneys Troy Burleson and Hunter Biederman realize that being charged with possessing an illegal weapon does not mean that you will automatically be convicted. For example, it is legal to possess a machine gun in the course of performing your duties as a member of the military. You might also be allowed to own certain weapons as antiques or curios without violating the law. Our team will carefully investigate the charges against you and work with you in building an effective defense.
Call 469-333-3333 for Help
If you have been charged with any type of weapons violation, or if other charges against you have been increased due to the presence of a dangerous weapon, contact our office. Call 469-333-3333 to schedule a free consultation at the Law Offices of Biederman & Burleson P.L.L.C. today. We serve clients in Frisco, McKinney, Plano, Fairview, Prosper, Allen, Denton, Lewisville, Little Elm, The Colony, Denton County, Dallas County, Collin County, and the surrounding areas.