DWI and DUI Attorneys in Collin County
Frisco Lawyers for Clients Charged With Driving Under the Influence of Alcohol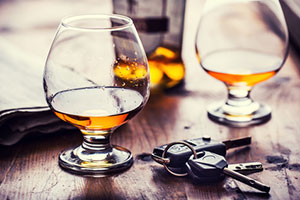 It against the law to drive on a public road in Texas while impaired by alcohol, drugs, or any other substance, just as it is against the law to do so in any other state. Under Texas law, the name that is given to the offense commonly referred to as drunk driving is "driving while intoxicated (DWI)," but other states use other names. For example, Ohio uses the name "operating a vehicle under the influence" and the abbreviation "OVI." California and many other jurisdictions call the offense "driving under the influence" or "DUI." In fact, enough states use "DUI" that it has become the term of choice for most national drunk driving awareness and prevention campaigns.
What you might not realize, however, is that the term "driving under the influence" and the abbreviation "DUI" are used in Texas as well—and not just informally. They are used to describe an offense that is separate from DWI. Specifically, DUI describes the offense that is committed when a person who is under age 21 operates a motor vehicle or boat with a detectable amount of alcohol in his or her system. If your child has been charged with DUI or DWI in North Texas, the experienced attorneys at the Law Offices of Biederman & Burleson P.L.L.C. are ready to help.
Understanding DUI Charges in North Texas
Unlike DWI offenses, which are violations of the Texas Penal Code, DUI offenses are technically violations of the Texas Alcoholic Beverage Code. Specifically, Section 106.041 of the Texas Alcoholic Beverage Code states that a minor—defined as anyone under the age of 21—commits a DUI offense—if he or she drives on public roads "while having any detectable amount of alcohol in the minor's system." The statute does not address how the alcohol must be detected, which means a police officer can arrest a driver under age 21 if the officer merely smells alcohol on the driver.
DUI in Texas is generally prosecuted as a Class C misdemeanor. The penalties for a conviction include fines of up to $500, and the underage driver may be ordered to participate in an alcohol awareness program. Up to 40 hours of community service may also be ordered for a first offense. For a second offense, the court may order up to 60 hours of community service. For a third offense, the penalties increase to fines of up $2,000, a jail term of up to 180 days, or both.
It is extremely important to realize that DUI charges can be increased to charges of driving while intoxicated if the police or prosecutors have reason to believe that the underage driver's physical or mental faculties were compromised by the alcohol in his or her system. Similarly, if the driver submits to a breath or blood test that shows a blood-alcohol concentration of 0.08 or higher, DWI charges are likely as well. There is no minimum age for a DWI charge.
Compassionate DUI Counsel in Little Elm and The Colony
Attorneys Troy Burleson and Hunter Biederman have more than 27 years of combined experience, and have secured trial victories in hundreds of DWI and DUI cases. As former prosecutors, we know that district attorneys will use all sorts of tactics and techniques to secure a conviction, but we also know how to defend against them. If your son or daughter is facing charges for DUI or DWI, you need top-quality representation from a team who knows how to get results. You need the Law Offices of Biederman & Burleson P.L.L.C..
Call 469-333-3333 for a Free Consultation
To learn more about our firm and our approach to DUI charges in Texas, contact our office. Call 469-333-3333 to schedule a free, confidential consultation and case review today. Based in Frisco, we serve clients in McKinney, Plano, Fairview, Allen, Prosper, Lewisville, Little Elm, The Colony, Denton, Collin County, Denton County, Dallas County, and the surrounding areas.